One of my most asked questions is, "How did you become a Jeweller?"
At high school one of my subjects was Manual Arts (wood work and metal work) and while I was the only girl in the class, I loved it. As part of my studies, I completed a welding course through TAFE and having excelled at something I had never done before, my mum suggested I think about becoming a Jeweller. Between Year 11 and 12, I completed an eight-week course at summer school and it was then that I knew I wanted to be a manufacturing Jeweller.
Upon graduating from high school, I completed a 12-month Visual Arts course majoring in Jewellery. Then my dream came true when I started an apprenticeship at Bill Proctor Jewellers in Bundaberg, where I stayed for seven amazing years polishing my skills and developing my designs.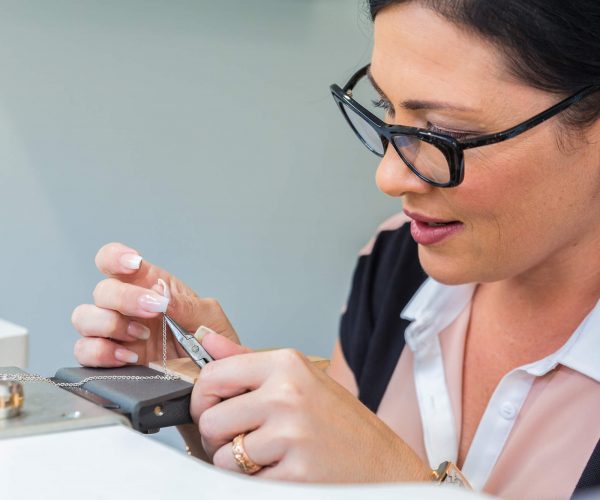 Wanting to spread my wings, I moved to the Sunshine Coast, where I set my sights on the best quality manufacturing jeweller in town – Underwood Fine Jewellers and I was part of the team at the Sunshine Plaza store for 13 years. Then for the past two-and-a-half years, I have had the privilege of being at Mclean & Co Jewellers in Kawana.
Having been on the Coast now for more than 15 years, I have made many treasured pieces for some absolutely amazing clients and I've always said, "I'm so lucky getting paid for my hobby!"
I'm thankful to have found my passion at such a young age, which has allowed me to be designing and manufacturing jewellery for the past 25 years, and I feel blessed to have been part of so many special occasions by creating a piece of jewellery, a symbol, to represent these milestones.
To me, a piece of jewellery is a moment frozen in time!

And, they will last longer than a lifetime.
The journey one takes in creating a piece of custom jewellery is the beauty of my work – it's making a connection that involves a lot of trust.
Starting with a conversation and a hand drawn sketch, hand making the small sculpture, then opening the little box and seeing a loved one's eyes light up brings me so much joy!
From beginning to end, lifetime friendships have been made with this connection, and each piece holds a place in my heart, for it was truly made with love.
For this reason, I've decided it's time for me to start my own business and continue creating unique ideas and designs which have given me a style that is now being recognised as an "Original Ness".
"Jewellery is like the perfect spice - it complements what's already there"